Just like every year, Prague is a major New Year's Eve destination for travelers in Europe and, just like every year, there's tons of stuff going on throughout the city. Obviously, the midnight fireworks are a must-see and there are many places in the city where you can watch them with varying degrees of safety or risk, depending on how adventurous you feel that night. For a list of good viewing spots, check out my blog article from last year by clicking here. And if you're looking for additional ways to ring out the old year and ring in the new, then read on and you'll find a list of 10 suggestions to choose from complete with appropriate links for further information and advance ticket sales for each, when available. Here's wishing you a fun and safe holiday!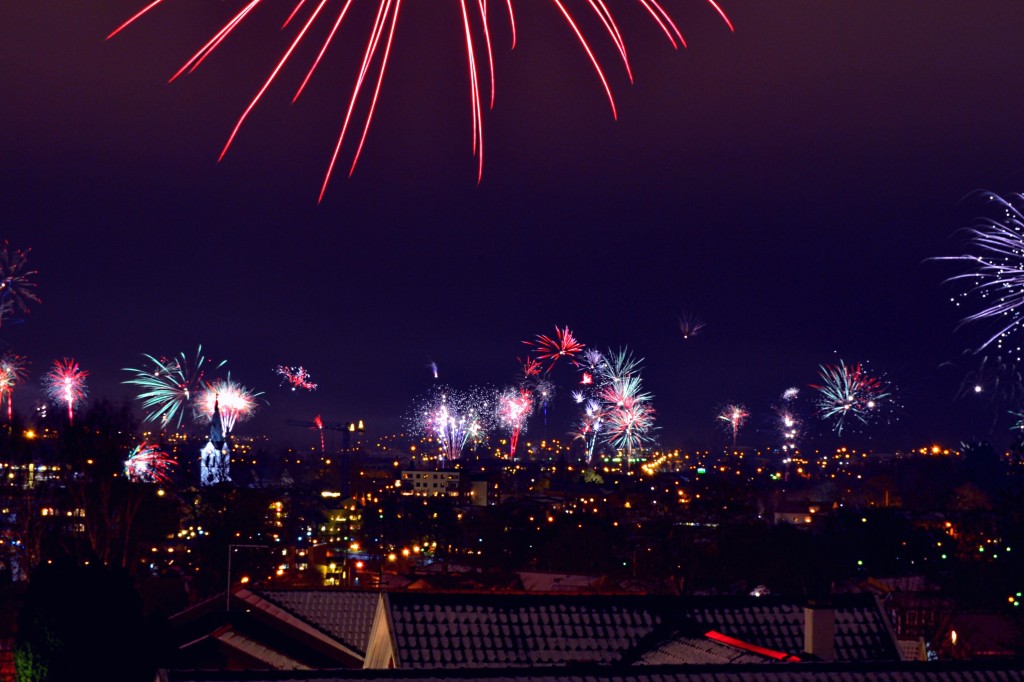 1. Vagon Klub is a live music venue in the center of Prague which specializes in revival bands, or tribute bands as they're known in other parts of the world. This year they're celebrating the New Year with the classic rock band Professor playing the music of  Deep Purple, John Lennon, Queen, AC/DC, and the Beatles among others. Entry is 200 kč and drinks are usually pretty reasonably priced.
2. Party Like a Rockstar! at Hard Rock Cafe is a little pricey but includes a special New Year's Eve dinner menu with your choice of entree, an all-inclusive beverage package from 8:00 til midnight, a concert by the group So Fine, and live DJs. It an all-ages event open to both adults at 3120 kč, and teenagers for an entry of entry price of 1440 kč with a soft-beverage package.
3. Rock Cafe Praha is not to be confused with the above. They're one of central Prague's best live music venues and their New Year Party this year features bands the Radio$tars, and Mr. Loco with pounding Balkan-Latin assault grooves, and DJs Vegy and Elvis. Tickets are 199 kč in advance, or 250 kč at the door.
4. Tropical Heat New Year Eve at Palác Akropolis in Prague 3, not far from the center, will feature myriad DJs all night long playing myriad different music styles on 3 different stages, linked with decorations, projections, and video-mapping in the main hall. Free welcome drink and drink specials til midnight. Entry is 200 kč in advance, 250 kč at the door, and only 100 kč after midnight.
5. DNB Rodeo Silvestr 2017 at Storm Club will provide you with all the drum-n-bass sounds you could ever hope to fit into a New Year's Eve. Organized by the well-known Let It Roll crew, it features famous Czech producer Forbidden Society, Pixie, Bifidus Aktif, Akira, and many others. Entry is 130 kč.
6. New Year's Eve Reborn at Roxy appears to offer an evening of electro, house and techno DJs on 2 stages. Apparently nothing is included with the price of a ticket except entry to the club, and even that's confusing. Their website price is listed in two waves, presumably depending on what time you arrive, though no specific times are mentioned. Get there earlier perhaps and the entry is 500 kč, or arrive maybe later and the entry is 800 kč. Both their website and FB page say it's impossible to reserve for the event, but both also encourage you to buy your tickets in advance. When you follow the advance-sales link, the ticketing service says the advance tickets cost 875 kč. Your guess is as good as mine on this one.
7. Silvestr na 007 at Klub 007 Strahov features a triple line-up of openers Bad Taste and the Train Robbers supporting headliner Chernobilly Boogie who claim to have been exhiled from the Ukraine to France for playing mutant horror boogie woogie since 1986. Entry is 200 kč until 8:00, and 250 kč after that. Check out the video below and tell me this wouldn't be a cool bunch with whom to bring in the New Year:
8. Imperialistic Silvestr Night at Cross Club, one of the trippiest places in Prague, will have multiple DJs playing multiple styles on multiple stages all night long and into the very wee hours of the morning and probably beyond. Entry is 200 kč until 9:00 and 300 kč  after that.
9. Rock Klub Kain is your Prague hot spot for hard rock and hair metal the way it can only be done in the Czech Republic. This year the Beer Band brings you music from the "golden era" of the '60s, '70s and '80s, and plenty of the golden beverage of the kings of old is sure to be flowing copiously. Get your old-school groove on.
10. Phenomenal New Year 2018 at Phenomenon Music Bar in Smichov, Prague 5, is easy to get to from the center. This New Year's Eve you can look forward to DJs Topic and Mexim, and at midnight a performance by the percussive sounds of Lancy & Ulianna. The club will be decorated in gold, and anyone who dresses in gold will receive a free drink. So go for the gold. Entry is 249 kč.