JEWISH QUARTER WITH INTERIORS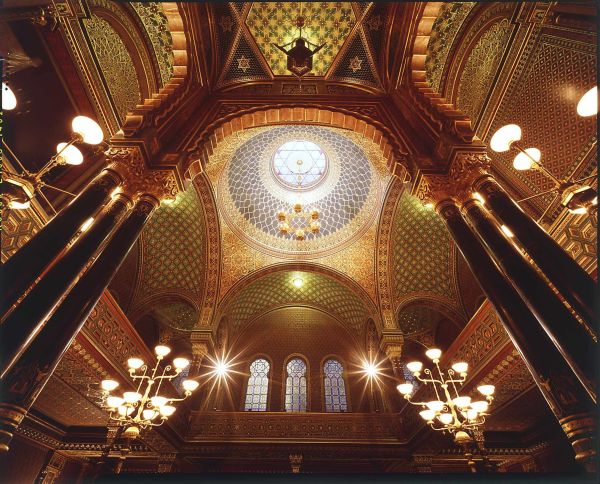 ---
TOUR DETAILS
Our licensed tour guides will take you through the rich history of Prague's Jewish Quarter. Not only you will pass the streets of medieval ghetto but we also visit the interiors of all the synagogues as well as the Old Jewish Cemetery. You will be guided by our professional guides who obtained the official guided licenses from the Jewish Quarter Department after completing the course.
When
We can tailor this tour according to your date and time preference.
Price
The price depends on number of participants. Please contact us for the quote. 
Duration
3 hours
Language
English, French
Meeting point
We can organise a pick up from your hotel or we will meet in the Old Town Square.
End point
Old-New Synagogue
---
TOUR HIGHLIGHTS
The tour starts in the Maisel Synagogue, where you will learn about the medieval history of the Jewish ghetto.
You will learn about the recent history of the Jewish Enlightenment and WW2 in the Spanish Synagogue, which was built in decorative moorish style
Pinkas Synagouge serves as a memorial to the Jewish people who were killed by Nazis during the Second World War. Here we will remember the victims of holocaust.
The Old Jewish Cemetery will bring a few centuries back in time and we will pass 12000 grave stones and remember some of the important figures of the Jewish Quarter, such as Rabbi Lowi known as Maharal or Mordechai Maisel.
The Jewish burial society (Chevra Chadis) had seat in the Ceremonial hall, which we will also visit.
Last place of the Jewish Museum is the Klausen Synagogue, where we learn about the Jewish feasts and traditions.
If you wish we can include the interior of the Old-New Synagogue, the oldest active synagogue in the world.
---
IMPORTANT INFO
Please, reserve your spot at least 24 hours in advance and wait for the confirmation.
The entry fee to the Jewish Museum is 350 CZK (14 EUR) and it covers Maisel Synagogue, Spanish Synagogue, Pinkas Synagogue, Old Jewish Cemetery, Ceremonial Hall and Klausen Synagogue
The entry fee to the Old-New Synagogue is 200 CZK (8 EUR)