WORLD WAR II TOUR
---
TOUR DETAILS
This 2,5-hour tour will take you back in time to one of Prague's most dramatic periods. You will learn why Czechoslovakia was very important to Hitler and his Third Reich, so he took the country even before World War II has officially started on September 1st, 1939.
Did you ever wonder why Prague was not heavily bombed such as the other European cities? Together with your local guide you'll uncover the hidden details in the streets and you will learn about heroic deeds and tragic losses of the Czech nation, reveal the disturbing past of the Czech capital during WW2!
When
Every Monday, Thursday and Sunday at 11am (except 24-26 December and 1 January).
Please, reserve your spot online 24 hours in advance or call +420602978601 for the instant booking.
Price
600 CZK (25 EUR)
Duration
2,5 hours
Language
English
Meeting point
Powder Tower at Namesti Republiky 5
End point
The crypt of Sts Cyril and Methodius Church (National Monument to the Heroes of the Heydrich Terror); Resslova 9a, New Town, Praha 1
---
MEETING POINT
Powder Tower at Namesti Republiky 5
Nearest metro stop: Namesti Republiky (yellow line)
How to recognize us?
Look for the guides holding a blue umbrella with a sign Prague Extravaganza FREE TOUR.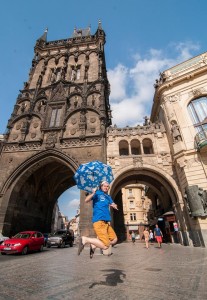 ---
TOUR HIGHLIGHTS
See the former gestapo headquarters and learn about persecutions of Czech patriots, Jews, Communists etc.
Learn why Nazis didn't damage any synagogues in Prague and why the Jewish Museum operated during the WW2.
Learn about the valorous deeds and tragic stories of the Terezin Ghetto.
See number of memorials and Stumble Stones remembering the victims of Nazi Terror and the Czech resistance heroes.
Learn about the Prague's Uprising in May 1945.
Get to know the details behind the assassination of the second of top Nazi Reinhard Heydrich "the Butcher of Prague".
You'll visit a crypt of Sts Cyril and Methodius Church where the paratroopers of Operation Anthropoid had been hiding until their "martyrs' deaths".
---
IMPORTANT INFO
Please, reserve your spot at least 24 hours in advance or call +420602978601 for instant booking.
Bring your travel pass or a 30-min public transportation ticket worth of 30 CZK.
We can also tailor this walk as a private tour. Contact us for more information.
---