Places to Visit in Trendy Area of Vrsovice
For me, a person that lived in the Prague district 6 before leaving the city five years ago, Vršovice was an area one rarely visited. I remember traveling to Vršovice to visit the now famous, Café v Lese. Six years ago, it was almost the only such bar/club on the street Krymská that was otherwise dead quiet at that time. Now even New York Times write about the area! As Bob Dylan acknowledges, times are certainly changing.
Nowadays the same street boasts with a number restaurants and bars which create a unique atmosphere that people can enjoy until early morning hours.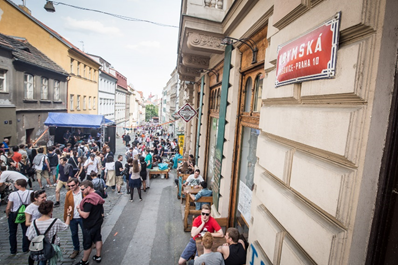 The area during a local festival, image source
Apart from Café v Lese, the two local 'heavyweights' are certainly Bad Flash Bar and Café Sladkovský.
The former entices visitors to try a large offering of beer brands, not only from the Czech Republic. They usually have more than ten different beers on tap and over 200 brands to choose from in glass. Talk about a beer paradise. You can also order staple Czech beer snacks such as my favourite, utopenec (pickled sausage). They also do tasty pickled hermelín, a Czech take on camembert.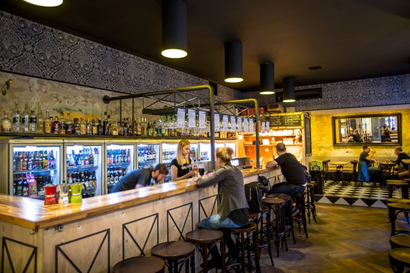 Bad Flash Bar interior, image source
The latter offers great burgers, bits of Mediterranean cuisine, a variety of drinks and a poetic setting where one can be lost in conversation for hours. The café also has a great brunch offering on Sunday so you can refuel after a long evening the day before.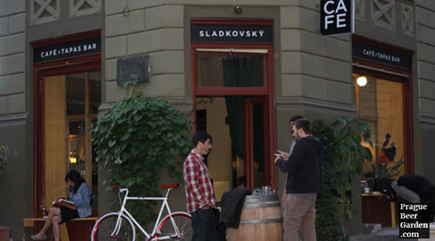 Café Sladkovský, image source
Don't despair if you are looking for a quieter night out, Krymská got you covered. For example, you can have a lovely dinner in the vegan restaurant Plevel. After this, one can visit the cosy family cinema, Kino Pilotů which routinely features English friendly screenings of both contemporary and vintage movies. Don't shy away from buying a drink on the bar and enjoying it during the screening.
While most of the action is centered around the street, Vršovice as a whole is a great area to explore for more delicious restaurants (try the Javanese specialties in Javanka) or simply places to relax (try the wonderful hilly park of Grebovka or the quieter Heroldovy Sady).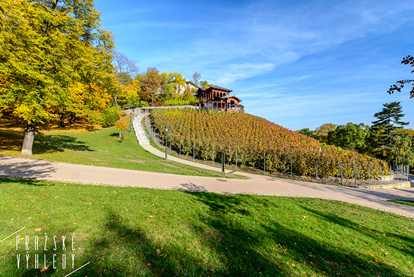 Grebovka Park, image source
Krymská and Vršovice are also a frequent spot for travellers from all over the world as there is a great hostel (Czech Inn) just around the corner.
The area is also well connected with frequent trams (namely the number 22 which can take you all the way to the Prague Castle) and buses. The nearest subway station (Naměstí Míru) is also a mere 10-minute walk away. Vinohrady, another great area is just a few minutes walk from the area as well. If you'd like to learn more about Vinohrady or Vrsovice districts and visit these cool places with a local guide, contact us for a private tour 🙂
When I came back to Prague last year, I visited Vršovice and instantly fell in love with the place and the changes that occurred since my departure. Luckily, I can now call myself a proud resident of this lively area and can't wait to see you around!