10 LOCAL DESIGNER SHOPS with offbeat, original stuff
Sometimes it seems like every third storefront and every other market stall in the center of Prague is occupied by an over-lit, over-priced souvenir shop, all of them bursting with the same shot glasses, "Bohemian" crystal goods, and t-shirts boasting such mottos as "Czech Me Out" or "Prague Olympic Drinking Team". So maybe this doesn't appeal to you, and instead you'd like to visit some places that are devoted to items made by interesting and original local designers. You're in luck: there are many. The following list barely scratches the surface of what's available, but I hope it will at least provide a starting point if you're interested in seeing what the artisans of the Czech Republic are producing these days. As always, click the links to find maps, websites, and other useful info.
1. Dyzajn Market, held approximately once a month in various locations, is a gathering of independent artisans and craftspeople for the purpose of displaying and selling their wares. There's usually live entertainment of some sort on a small central stage, and food, beer, and other beverages on sale, all keeping with the spirit of locally-produced. The next scheduled Dyzajn Market happenings will take place 18 Feb. 12-19:00 and 18-19 Mar. 10-19:00. If you're reading this after March, 2017, then check their Facebook page (link above) for the most recent event.
2. PunkTura, Vodičkova 10, Prague 1, advertises itself as a trash fashion manufacture designer´s shop with punk, retro, vintage and recycled clothes & Tshirts. I like this one a lot. They rock.
3. Botas 66, Skořepka 4, Prague 1, lifestyle shoes based on classic Czechoslovak sport shoe designs from the 1960s' Botas company, resurrected by two design students in 2008 as a school project in brand redesign. 
4. Pragtique, Národní 37, Prague 1, unique and high-quality souvenirs with Prague themes, porcelain, hand-stitched books, organic chocolates, notebooks, t-shirts, and other goods produced by a number of different local designers.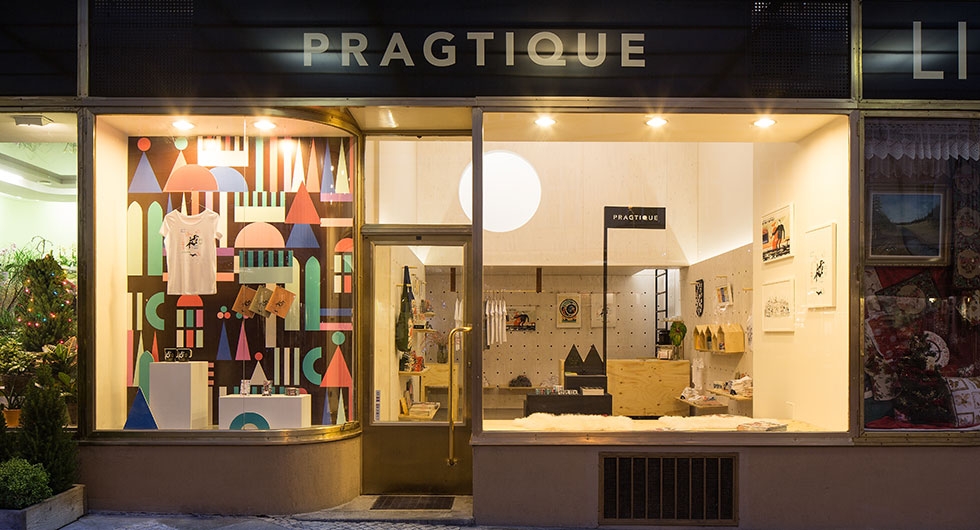 5. Botanicus, Týnská ulička 1049/3, all-organic soaps, shampoos, body products, oils and lotions, cosmetics, and foodstuffs made from the purest products produced by the Botanicus organic farm in Ostra, Bohemia. Come back in the summer and you can take a train ride out to visit the craft center at their homestead not too far from Prague.
6. Napamatku, Křižíkova 62, Praha 8, sells "gifts with engraving", or rather kitchen utensils, primarily in the form of various-sized rolling pins that imprint your dough with really cool embossed pictures of different kinds such as hearts, paisleys, skulls, dinosaurs, or psychedelic leaf-prints. 
7. Skoba, Křížkovského 10, Prague 3, sells handmade original diaries, blank books, and stationary. Really funky stuff.
8. Playbag, with its outlet at Bořivojova 106, Prague 3, represents a handful of Zlin-based people who manufacture handcrafted backpacks, shoes, shoulder bags, purses, wallets,  and other accessories that are of "timeless design", super durable and made to last.
9. Made In Žižkov s.r.o., Bořivojova 90, Prague 3, has a wild assortment of t-shirt designs, hoodies, tank tops, accessories for men and women, alternative children's wear, and caps. 
10. Sralouni, https://www.sralouni.cz, doesn't have an actual physical shop of their own, but they are too odd not to include. Their catchphrase is "podpůrné piktogramy při zácpě", which google-translates as "supportive pictograms for constipation". Close enough. They design stickers, t-shirts, bags, and plaques that are all dedicated to pooing dogs, and the various species of dogs who poo.  I got my partner a dog-poo t-shirt for Christmas this year just to make sure she knows how special I am. You can visit their eshop at the link above, or most likely find them at the next Dyzajn Market like I did.
If you're still looking for more ideas and more places to visit, you can always ask your Prague Extravaganza Free Tour guide what's interesting that they know of. And they always know plenty…