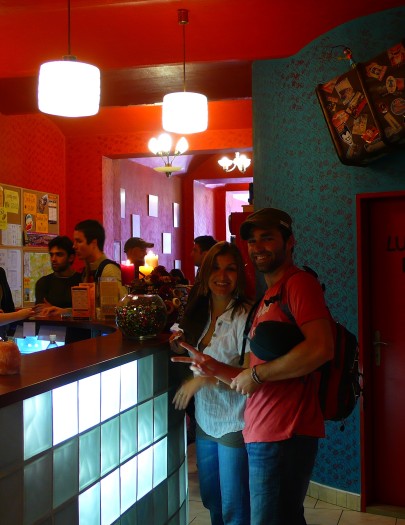 Hostel Marabou Prague
Konevova 738 / 55, Praha 3 - Zizkov
+420 222 581 182
….thinking of single or group travel to Prague  … and stay at the Hostel Marabou …check out our special offer …and start to pack the suitcases…
We want to help you to make your single or group trip to Prague a great success. We are pleased to support your stay and help you to plan excursions, trips or organize you a complete program for your stay in Prague.
At the Hostel Marabou Prague there is place for everyone, whether you are traveling alone or with an academic program, a school trip, a sports club, or just leisure travel groups. Our Hostel is the perfect single or group accommodation for a pleasant stay in Prague.
price includes free internet access, also Wi-Fi working in the whole building, sheets, tea and coffee all day long, final cleaning. We also offer 24/7 desk and bar service, at the lounge there is foosball table and pool table, there is also fully equipped kitchen at disposal.
Traveling with a group doesn't have to be complicated or expensive. Hostel Marabou Prague offer competitive rates and can accommodate a range of group sizes up to 85 persons.If you are group over 85 persons you can still contact us for offer, we are able to split your group into Marabou and our friendly hostel just 5 minutes down the road.
accommodation   …we offer clean, safe, and comfy rooms that range from dorm-style accommodation (8 to 16-beds) with shared bathrooms, to private ensuite rooms ..linens, towels, and housekeeping services are always provided free of charge
meals… the yummy continental all-you-can-eat breakfast buffetis provided at Hostel Marabou for only one Euro per person, includes white and brown bread, a variety of cereals, spread cheese and pate, jam, honey and yoghurt, milk just as tea and coffee, water and fruits
exploring Prague will make you hungry … Hostel Marabou also offerspacked lunch boxes … with a sandwiches, something sweet, something healthy and a drink
at the Hostel Marabou groups can also book dinner according to your choice …we can prepare buffet style dinner right in our hostel as well as two or three courses dinner in our friendly restaurant very next door…we are flexible, that's why it is no problem to serve dinner at any time to suit you …the Hostel Marabou Team will be pleased to take care for any special cultural requirements or vegetarian wishes, on request we will provide you with list of tasty meals.
itinerary planning…Marabou Hostels staff can assist your group with public transportation, tickets to major Prague's attractions…
rates… are determined on a group-by-group basis and vary depending on the selected season, size of group and any additional items requested, such as meals or itinerary planning, generally it starts from 220,- CZK (app. 8,1 E) per person and night
Hostel Marabou has own Beer zone!
Probably the only hostel with selection of 100+ types microbrew beers ready to enjoy or take it with as a nice present!!