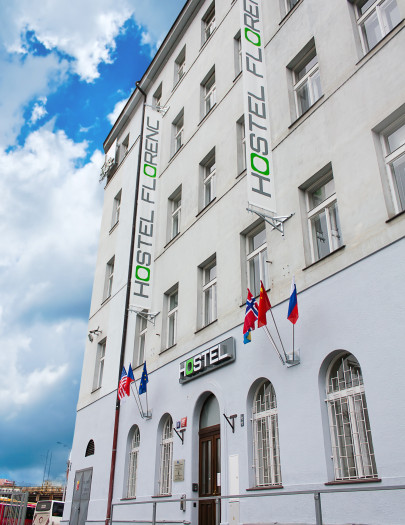 Hostel Florenc
Pod Výtopnou 2
+420 221 895 415
Hostel Florenc Prague is a new offer for those, who wish to have a pleasant, unforgettable stay and enjoy their visit to Prague
These five basic elements…  are the well chosen ingredients of our offer:
1.         Location –  near the centre of the city, on the area of Central Bus Terminal
2.         Clean, well equipped, non-smoking rooms
3.         24 hours  reception
4.         Breakfast buffet included
5.         Dedicated staff and the right crowd
What awaits you?
• On the spot: 24 hrs open reception, all you  can eat breakfast, safe deposit boxes, fully equipped kitchenettes, TV & Internet and chill-out room, free Wi-Fi, table-tennis, outside seating, darts, table football, washer and dryer, car parking, shop
• 3-5 min walk: bus terminal, ATM, money exchange, subway and tram station, fast food, cafe, tourist information centre, shops and pubs
• 10 min walk: shopping malls, city centre, railway station, river
• 15 min walk: historical city centre, shopping area
The rooms
From private rooms with own facilities to budget dorm beds. We put our efforts into the basic elements, hot showers, toilets, reading lights and good mattresses for a good sleep.
120 beds in single and double rooms with shared or private facilities, family rooms with own facilities, mixed and female dorms (3-6 beds).