COMMUNISM & BUNKER TOUR
---
TOUR DETAILS
We tailored the Communism & Bunker Tour for those people who are keen to learn how was the life behind the Iron Curtain. Our mission is to pull that curtain up and educate our guests about the recent history of former Czechoslovakia and also how the average person lived and acted during the Communist Era. However, we speak a lot about politics, persecutions, hope for better future and life in general, we often combine the topics with humour and some Czech jokes.
We include a 30-minutes break during the Communism & Bunker Tour. We stop in an authentic canteen from the 70s, so you can rest your feet, use a bathroom and enjoy typical Czech lunch and Kofola drink in this very traditional place popular by locals. For less than 5 EUR you can enjoy 3-course menu. This place a hidden gem in Prague!
The walking tour starts at the Powder Tower in namesti Republiky, where you will hear the story of how the new Czechoslovakia Republic was formed in 1918. Discover the dark days of Nazi occupation and liberation by the Russian Red Army in 1945. In the Wenceslasz Square you will learn about the 1960s when the Soviet army crushed the nation's blossoming dreams of democracy in 1968. To learn more about Prague Spring, you could read our blog post here. The tour takes you up to the Velvet Revolution in 1989, signalising the end of this grey period of Cold War history.
When
Every Monday, Wednesday, Friday and Saturday at 11am (except 24-26 December and 1 January).
This tour needs to be pre-booked 24 hours ahead.
Price
500 CZK (19 EUR) without a nuclear shelter
700 CZK (27 EUR) with a nuclear shelter 
Duration
2,5 hours without a nuclear shelter
3,5 hours with a nuclear shelter 
Language
The general Communism & Bunker Tour operates in English only, however, we are able to organise this tour with a private guide in French or German.
Meeting point
Powder Tower at Namesti Republiky 5
End point
Upper part of Vaclavske Square
---
MEETING POINT
Powder Tower at Namesti Republiky 5
Nearest metro stop: Namesti Republiky (yellow line)
How to recognize us?
Look for the guides holding a blue umbrella with a sign Prague Extravaganza Free Tour.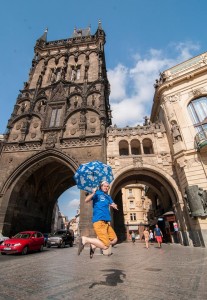 ---
TOUR HIGHLIGHTS
Pre-WW1 period
Foundation of Czechoslovakia in 1918
Nazi Occupation
Liberation by the Red Army in 1945
Communist putsch in 1948
50s – Era of fear
60s – Era of hope
Story of Alexander Dubček
Prague Spring in 1968
Jan Palach's death
70s – Era of Normalisation
Václav Havel
Late 80s – Perestroika
Velvet Revolution in 1989
Post-communist period so-called wild capitalism
Situation of the Czech Republic today
---
IMPORTANT INFO
No reservation is necessary, just show up with your smile!
However it is recommended to make a booking, so we can guarantee you a spot, as we limit the maximum number of participants to 15.
For 400 CZK (16 EUR) spend 2,5 hours walking around Prague, seeing places of recent history such as Václavské Square (1968 Prague Spring, 1989 Velvet Revolution) and have a lunch or Kofola drink in an authentic canteen from 70s with your local guide. For an extra 300 CZK (12 EUR) visit a Nuclear shelter and evoke the paranoia of the 1950's. The admission fee 130 CZK (5 EUR) to a shelter is included in the price.
There is 30-min lunch break included, for less than 5 EUR you can enjoy 3-course menu and taste Kofola drink. The lunch expenses are excluded from the price.
We can also tailor this walk as a private tour in English, French or German. Contact us for more information.
---